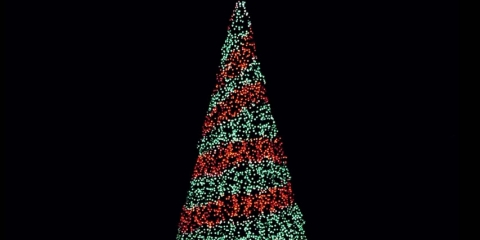 World's first "4D Tower Tree" premieres at IAAPA show, delights thousands with never-seen-before animation capabilities, storytelling feature and original score
LOUISVILLE, Ky. (December 2015) – More than 18,000 attendees from 100 countries at the International Association of Amusement Parks and Attractions (IAAPA) show in Orlando, Fla., this November were witness to the world's first-ever 4D Tower Tree, which premiered with an 8-minute animated story and an original score composed by Broadway veterans. The Tree, designed, produced and animated by Oak Island Creative and S4 Lights, stands 40 feet tall and includes 40 pixels on each of its 400 branches.
What makes the 4D Tower Tree the first of its kind is this tree is uniquely capable of projecting full-length animated stories, set to music, that play out across the surface of its branches, thus creating a 360-degree moving adventure for viewers. The tree can also be customized for interaction with guests, who can direct changes in motion for the animated figures – or, even project their own real-time, moving silhouette onto the tree – by way of mounted sensors on custom-built platforms.
"Other sophisticated Christmas trees have had lights synchronized to music, but the 4D Tower Tree is capable of projecting a personalized story, original animation, morphing logos or viewer-directed changes, complete with a voice over narrative and a customized musical score," said Kevin Kreczko, Creative Director at Oak Island. "Guests at IAAPA told us they were blown away at the tree's debut."
Unique features, elements and capabilities of the 4D Tower Tree include:
• Every 40' tree has 40 pixels per branch and 400 branches per tree.
• Each of the 17,000+ RGB Pixels is capable of displaying 256 colors.
• The tree stands 40-feet-tall, with an 18-foot-wide base.
• A 6-foot star, with a brilliant starburst of 2,600 lights, can be mounted to the top.
• The tree can be made interactive by way of mounted sensors that allow guests to project their own images onto the tree or move animated figures as desired.
• Animated short films and/or branding concepts, set to original scores, can be created and projected onto the tree for entertaining and informing viewers standing in every direction around the tree.
"We are incredibly happy to have partnered with the innovators from S4 Lights to create and offer something the world has not experienced until now," said John Hawkins, founder and CEO of Oak Island Creative. "This amazing Tower Tree is capable of projecting a mesmerizing story, taking guests on an adventure like none other."
See it in action: https://www.youtube.com/watch?v=jvjpMV0sxzc