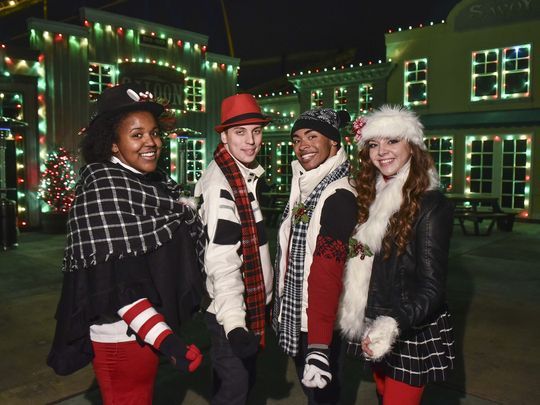 If you dread the thought of untangling Christmas lights, imagine hanging miles (and miles) of them.
That's what workers at Six Flags Great Adventure have been up to for months to prepare for Holiday in the Park, now open at the theme park.
The event offers the park's signature rides, coupled with special shows and the sights, sounds, smells and shimmering snow of the holiday season.
Building on its Fright Fest theming prowess, it's clear from the moment you step through the gates that Six Flags has gone all out to build a festive, welcoming holiday village. From lightly falling "snow" to lights everywhere you look, festive foods to fire pits, holiday music to hot chocolate, the best of the season is in abundant supply.
So what does it take to craft this winter wonderland? According to a news release from the park, Holiday in the Park encompasses:
1 million+ lights
35,000 feet of power cord
6,190 ornaments
5,025 feet of shiny garland
1,000+ poinsettias
240-foot-tall Treetop Summit, one of the world's tallest light trees
224 trees: 170 cut trees and 54 oversized holiday trees
215 holiday wreaths
30 rides
Six Flags Holiday in the Park. The Jackson theme park offers 10 new themed areas for the season.
20+ holiday-themed foods and refreshments
15+ holiday photo ops
10 giant props and inflatables, including "Stewie the Snowman," a 3-story, walk through inflatable and 15-foot-tall Nutcrackers
10 themed sections
10 daily tree shows of "Holiday Magic — A Celebration of the Season"
7 roller coasters
5 snow machines
5 elves
4 Jingle Jammers carolers
4 holiday-dressed Looney Tunes characters
2 gingerbread characters: Dot and Drop
2 stilt-walking toy soldiers
2 holiday princesses: Snow Queen and Poinsettia Princess
1 Jack Frost
1 Mrs. Claus
1 Santa Claus
ASBURY PARK PRESS
Broadway's 'Hamilton' cast visits Six Flags Great Adventure
Open during Holiday in the Park are roller coasters Nitro, Batman: The Ride, The Green Lantern, Superman — Ultimate Flight, the Dark Knight and Poinsettia Peak (Skull Mountain the rest of the year), as well as children's rides and other family attractions like SkyScreamer, Big Wheel and Tea Cups. Frontier Adventure, Bugs Bunny National Park, Golden Kingdom and Plaza del Carnaval are not open. Rides and entertainment are weather permitting.
Superman: Ultimate Flight is decked out for the holidays
Superman: Ultimate Flight is decked out for the holidays during Six Flags Great Adventure's Holiday in the Park. (Photo: Photo courtesy of Six Flags Great Adventure)
No holiday celebration is complete without the tastes of the season. According to the release, spiked egg nog, holiday-flavored coffee and hot chocolate (peppermint and mocha fudge), holiday beers, funnel cakes with peppermint eggnog and caramel pecan bacon toppings, platters of sliced turkey, smoked turkey leg and chicken platters with cranberry sauce, chili bowls, harvest salads, flatbreads and soups are available throughout the park.
Other Holiday in the Park attractions include:
Holiday Magic: A Celebration of the Season: Light and music show on a 52-foot-tall tree in the heart of the park every 30 minutes. It's the only show of its kind anywhere in the country.
Jack Frost's Magical Christmas: Jack Frost's evil plot to steal Christmas is reversed by the warmth and magic of the holiday season in this live stage show filled with acrobatics, illusions and surprise guests
Gingerbread Junction: Features peppermint swirl-wrapped trees, dancing lights around the carousel pavilion, the Gumdrop Hop dance party and a giant gingerbread man towering above
Peppermint Path in Gingerbread Junction at Six Flags
Peppermint Path in Gingerbread Junction at Six Flags Great Adventure during Holiday in the Park. (Photo: Photo courtesy of Six Flags Great Adventure)
Joy to the World: Tranquil pathway of lit trees, luminaries and stained glass showcasing religious holidays from around the world
North Pole: Guests are welcomed into the warmth of Santa's home for a meet-and-greet and holiday photos by Kodak, plus kids can write letters to Santa, meet a reindeer and build a stuffed toy
Poinsettia Peak: Skull Mountain roller coaster has been transformed into a mountain of dazzling red lights with a crimson beauty, the Poinsettia Princess, greeting guests nearby
Polar Point: Stunning, ice-blue trees twinkle with the illusion of falling snow up above, while the towering, larger-than-life Snow Queen meets guests below
Holiday Memories: Green, red and gold brighten this section filled with photo opportunities like Mistletoe Moments, Wishing Tree and With Love giant greeting card, while nearby the Jingle Jammers sing holiday tunes by the fire pits as guests toast s'mores
Read more: http://www.app.com/story/entertainment/events/2015/12/02/thrills-holiday…