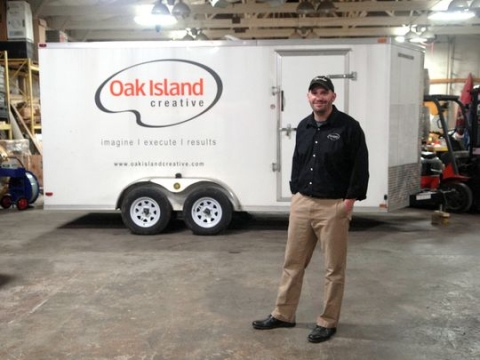 Oak Island Creative, based in Crestwood, Ky., created light events at the Missouri Botanical Garden in St. Louis. Grace Schneider, CJ
In grade school, John Hawkins charged 25 cents admission to haunted houses he created in the family basement. Then, the gags, shrieks and buddies with fake axes roamed the haunted woods near his parents' home.
Two decades later, Hawkins and friends still are creating scary, creepy Halloween haunted houses, and Christmas and Easter experiences on a far grander scale.
Oak Island Creative, his multimillion-dollar-a-year business headquartered in Crestwood, Ky., is filling a broader niche contracting with entertainment venues and theme parks to create special events that help them drive business beyond their traditional seasons.
This holiday stretch, Oak Island boasts a dozen Christmas-themed events from Colorado to Virginia bearing 10 million Christmas lights, huge trees, ornaments and garlands. In St. Louis, Oak Island has two "experiences" running through early January, the Missouri Botanical Garden's Garden Glow and Anheuser-Busch's brewery.
From the start, Hawkins, 41, said he enjoyed dreaming up gags and scary touches for his early haunted houses. "I loved it. Loved the work," he said.
While serving in the Air Force in Minot, N.D., he built his first professional haunted house, and a kid's sideline pivoted to a dream career. A friend in the military police, Frank Aridano, helped Hawkins build the attraction in a vacant downtown Minot building in 1997.
He remembers pulling late nights for weeks before the opening, printing brochures about "the haunt," as it's called in the industry, and distributing them with Hawkins on windshields at the local shopping mall and around college dorms. On the night the haunt opened, the place was mobbed.
Aridano, now Oak Island's sales manager, recalled loving the crazy line of work: "The fact that you could put on a costume and chase people with a chain saw. I was like, 'Sign me up.' "
Newly discharged from the Air Force, Hawkins relocated to Tampa, Fla., deciding his haunted house expertise might best take flight in the capital of theme parks. Aridano followed, and together they played music in tiki bars and worked day jobs while Hawkins went to work on another haunt in 1999.
He also wrote to zoos, museums and amusement parks offering his expertise, and just one responded – nearby Busch Gardens. The staff had seen his Tampa Bay haunt and was considering how to transform a family friendly Halloween attraction to something for teens and young adults., something "a little more immersive," Robbi Lepre, the entertainment director at Busch Gardens, recalled.
The Labyrinth of Lost Souls, their collaboration with Hawkins, debuted in 2000 and was "very scary," Lepre said. Visitors loved the "squeeze walls" that closed in on them – now a standard in many professional haunts.
The company since has built 150 in a dozen states. It also offers Christmas displays – boasting the largest one at Williamsburg, Va., this year – as well as Easter. Branding events and special displays for businesses have been added to the portfolio.
In St. Louis, on a rainy Saturday night after Thanksgiving, hundreds of people lined up at the entrance a half hour before the evening opening. They walked a trail through the dark grounds to see lighted trees and tunnels and gray and green globes suspended on dark pools of water. Each of 28 areas has its own musical soundtrack.
One of the most popular features is a clear globe where visitors – appearing as though they are inside a large clear Christmas ornament – pose for photos. In its third year, the Glow draws 100,000 people – paying $16 per ticket.
While the event business is big, Aridano said, Oak Island's founders realized 10 years ago that if they sold some of the props and creations they'd dreamed up for their own displays, the company could create a year-round enterprise. Their Scare Products line offers lightweight bloody axes, cobras and coffins, bugs, masks, and flame-retardant "black out" material.
The big seller to other professional haunts is the popular Claustrophobia collapsing walls and ceilings, priced from $1,000 to $2,500.
Hawkins, who returned to the Louisville area with his family eight years ago, recalls being a disinterested student in Oldham County schools. But his entrepreneurial interests shined with schemes to earn cash pedaling worm farms and lollipops, before branching into haunts.
His quirky creativity and sense of fun, Aridano said, has been balanced by a focus on the business plan. "He's always had a vision," starting back in Minot when their advertising and marketing campaign meant plastering Minot with fliers.
Next for Oak Island, Hawkins said, may involve multimedia and video productions. He and other executives also are tossing around ways to give back, possibly with a program for youths interested in entrepreneurship. "We do our best to run the business by the biblical Golden Rule," which Hawkins said "is the driving force behind all decisions."
"If we put our soul into what we're doing," he said, it will all work out.
John Hawkins is always prepared to hit the road for a job, though he calls Crestwood home. (Photo: Maggie Huber, Special to The CJ)
Reporter Grace Schneider can be reached at 502-582-4082 or gschneider@courier-journal.com.
Events this holiday by Oak Island
Brewery Lights at Anheuser-Busch breweries in St. Louis, Mo. and Fort Collins, Colo.
Blossoms of Light at the Denver (Colo.) Botanical Gardens
Holiday in the Park at Six Flags in Georgia and New Jersey
Zoo Lights – Holiday Nights at the San Antonio (Texas) Zoo