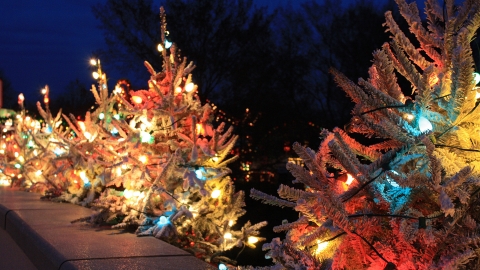 Louisville-based Oak Island Creative creates America's largest Christmas event, uses 10 million lights to transform locations across the U.S. into Holiday Spectaculars
LOUISVILLE, Ky. (December 2014) – Canopies with thousands of twinkling lights overhead and tall trees wrapped from ground to branches totally illuminate and transform the nightscape of some of America's best-known theme parks each year in December. What you may not know is that the team at Oak Island Creative is the hardworking design engine that plans and creates these winter wonderlands that so many visitors come back to enjoy annually.
This year marked a major milestone for Oak Island Creative, which has almost 20 years of entertainment industry support expertise. In addition to producing major holiday events in cities across the United States, including Williamsburg, San Antonio, San Diego, Orlando, St. Louis, and Atlanta, the Louisville-headquartered company officially produced the America's largest Christmas event on record in the U.S.
"We are thrilled that Oak Island Creative is the go-to team for transforming the nation's most beloved theme parks into magical Christmas destinations," said John Hawkins, President/CEO of Oak Island Creative. "Our goal is to always surpass client expectations and create experiences for families that delight each of the senses, creating lasting, beautiful memories of Christmas for the young and old alike."
In 2014 alone, Oak Islands' creative teams installed 10 million Christmas lights, thousands of feet of garland, hundreds of trees and ornaments, glowing overhead canopies and walkways, beverage sampling stations, and larger-than-life Christmas icons in the biggest entertainment venues across the nation. Hawkins said, "As soon as January hits, we will quietly and carefully take all the decorations and lights down in each park, and then immediately begin designing themes for making Christmas even more spectacular next year."
Fox News rated Oak Island Creative produced events as the #1 and #3 "Amazing Holiday Shindigs at America's Theme Parks" in 2014.
USA Today rated Oak Island Creative produced events as the #1 and #4 "Top Ten Theme Parks for the Holidays" in 2013.
COME CREATE WITH US!