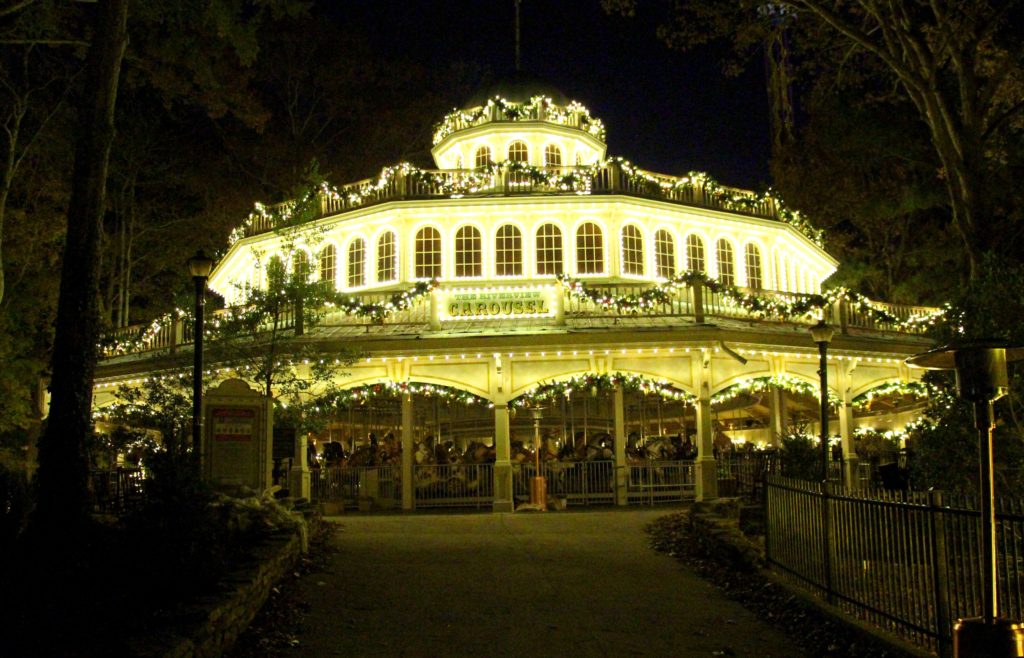 Our brightest holiday celebration kicks off November 17. At our exclusive seasonal event, you'll find everything you need to celebrate the most wonderful time of year. Here are seven incredible features at Holiday in the Park 2018.
1. View holiday lights – from the top of a coaster!
Sure, you could drive around your neighborhood to see beautiful light displays, but nothing quite beats the view from above. Rise up the staggering lift hill on Goliath or fly to the top of SkyScreamer to see the entire town twinkling at once. It's the same views Santa gets!
2. Take a charming train ride straight to Santa's Workshop.
Instead of visiting Santa at your local shopping mall, you'll get the entire North Pole experience at Six Flags. All aboard the magical North Pole Express to chug through a winter wonderland on the way to your magical destination. Step inside the warmth of his dreamy cabin to meet Mrs. Claus, the elves, and of course, jolly St. Nick himself!
3. Walk through a glowing carousel exhibit.
The Riverview Carousel gets a glowing makeover for the holiday season. This walk-through experience is filled with 94,000 lights, 200 luminary candles, 1,350 feet of garland, and 1,200 sparkling ornaments. It's a breathtaking sight you can't dare to miss.
4. Enjoy a fresh funnel cake – with a side of hot chocolate!
Not only can you enjoy all your favorite park fare, but we're also introducing new seasonal selections. Keep warm with a cup of hot chocolate, flavored coffees, or soup in bread bowls. Enjoy red velvet funnel cakes, banana pudding, holiday fudge, and decorated caramel apples. You'll also find Grinch popcorn, mac & cheese boule, spaghetti and meatballs, holiday platters, and much more!
5. Marvel at a 25-foot tall Christmas tree, lit by your local heroes.
Our stunning holiday centerpiece is much bigger than the one in your living room. This 25-foot structure is adorned with thousands of lights. The colorful display brightens up each night with an extravagant lighting ceremony featuring local police officers, firefighters, and Military personnel.
6. Roast your own s'mores treat.
Our toasty fire pits offer a warm respite to chilly nights. As you heat up your hands, you can make your own sweet treat! Pick up a S'mores kit to roast a marshmallow over the flames and pile it on a graham cracker with melty chocolate.
7. Sing along to live holiday carols.
The sounds of jingle bells and holiday harmonies are sure to get you in the spirit. Our charming performers create new renditions of classic yules. Enjoy live street carolers, family dance parties, and dazzling light displays. You'll hear traditional holiday music like you've never heard it before.
For more information, visit: https://www.sixflags.com/overgeorgia/newsroom/hip-overview-2018