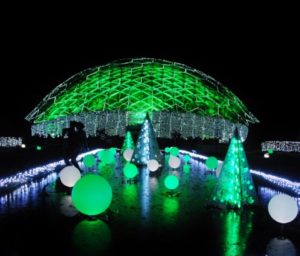 Among so many favorite memories of bygone holiday seasons, cruising through local light displays stands out at the top. We've compiled a list of unique displays across the middle of America for you and yours to enjoy this holiday season.
1/ Garden Glow at the Missouri Botanical Garden — St. Louis, Missouri
Garden Glow at St. Louis' Missouri Botanical Garden is a holiday treasure. It focuses on the natural beauty of the season. The million-light spectacle features huge technicolor flowers, countless lit evergreens and a glowing labyrinth with a gazebo at its center. Enjoy food, drink and traditional holiday music as you wander.
2/ Christmas Nights of Lights on Coney Island — Cincinnati, Ohio
Coney Island has been an important tradition for many Ohio families for 130 years; this year, the iconic park is bringing a new tradition for the holidays with Christmas Nights of Lights. Over a million LED lights have been strung along a two-mile stretch for visitors to enjoy from their warm and cozy cars as they sing along to the synchronized holiday tunes.
3/ Christmas at Crossroads Village — Detroit, Michigan
Where most holiday displays have a festive little train made of wire and lights, Crossroads Village boasts an actual moving steam engine wrapped in lights. Visitors can hop aboard for a jaunt on the Huckleberry Railroad before perusing through Crossroads Village, which is populated by costumed villagers and live entertainment.
4/ CSE Winter Light Show — Minneapolis, Minnesota
The College of Science and Engineering students at the University of Minnesota have once again put their heads together for their sixth annual Winter Light Show. The 3D outdoor experience features over 250,000 lights set to music, "some of which," according to the college's Student News site, "is written and recorded by University of Minnesota students." Catch the premiere party this Friday, Dec. 2 at 5pm for free hot chocolate and a peek at other projects the students are working on. The show enjoys a very limited engagement, though, so be sure to check the running dates before you visit.
Read more: http://alivemag.com/7-of-middle-americas-top-holiday-lights-displays-thi…